SWT Snow Emergency Schedule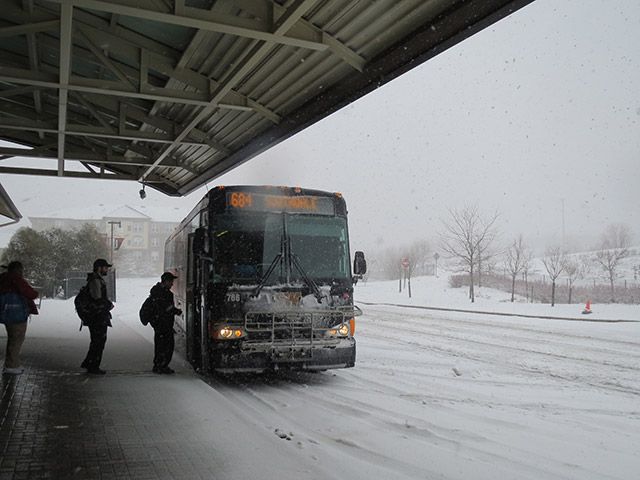 Be sure you're up to date with snow emergencies and your commute.
SNOWSTORM GUIDELINES
If a major snowstorm occurs in the SouthWest Transit service area, SouthWest Transit will announce its decision to either:
Run all routes
Run the Snow Emergency schedule OR
Cancel all service prior to 5 am. 
How will you know if a Snow Emergency has been declared?
Visit SWTransit.org for updated information. Updated information can also be found on Facebook, Twitter, and the SW Transit phone app.
Official announcements regarding SouthWest Transit limited or cancelled service will be broadcast on radio on WCCO (830 AM) and on television on WCCO and KSTP. 
Call 952-949-2BUS (2287). Our staff or voice mail message will offer up-to-date information. 
Check TV monitors at SW Transit park-and-ride locations
If a Snow Emergency is declared prior to 5 am the Snow Emergency Schedule will run all day.
Express Service and Flex Service will run
IF A SNOW EMERGENCY IS DECLARED LATER IN THE DAY:
• If SWT runs regular service in the AM and conditions rapidly deteriorate during the day with schools and businesses closing, we MAY run Snow Emergency service beginning in the early afternoon. All SWT Express Buses will display "SNOW EMERGENCY" alternating with "ALL SOUTHWEST STOPS." Please note that extra service will be limited, so standing room only situations may occur. 
Updated information will be available at 952- 949-2287, swtransit.org, Facebook, Twitter and on our phone app. 
All buses displaying "Snow Emergency" will go to SouthWest Station, where you might need to transfer to a shuttle bus to get to the location (P&R or street side stop) you started from in the morning. 
Please be patient and be prepared to wait in our Customer Service area at SouthWest Station so we can group people together who are going in the same direction. 
SW PRIME will operate but will not take any new ride requests. Those riders who need a return trip will be accommodated. 
Washington Ave N (Downtown) will not be serviced. The first Downtown stop will be at 3rd St. & Chicago Ave. • All Flex Routes will begin as scheduled but may be subject to significant delays. 
All Flex buses will not "flex" from their standard routing. Passengers must board along the scheduled routing. 
Normandale Shuttle & Optum Shuttles will operate. However, riders should expect significant delays. Optum Shuttle riders must request their rides 2 hours in advance. 
Depending on conditions, we will attempt to resume the remainder of our normal express schedule after 7:00 pm.
HOW DOES SWT HANDLE A SNOWSTORM?
Our number one goal is SAFETY.
The safety of our riders, our drivers, and our staff comes before anything else. The secondary goal is to run our regular service as close to on time as possible without going to an "All Stop" or Snow Emergency Schedule.
FAQ:
Why is my bus late?
Traffic & Road Conditions: We use our transit advantages whenever possible, but sometimes shoulders are not accessible and we are stuck in traffic just like everyone else. We count on the drivers to use their best judgment to ensure a safe trip.
Our Buses Run Multiple Routes: During AM peak times, buses make multiple trips to and from downtown. The reverse is true in the afternoon. Traffic and road conditions can delay buses in their attempt to get back to their next trip on time. We do have extra vehicles on the road, but even with these operating, we still experience delays.
Why is my driver taking a different highway routing?
Dispatch constantly monitors road and traffic conditions and makes changes to highway routing as necessary. We will, however, make our regular stops, excluding Washington Ave., in the downtown zone and at the U of M.
Why do I have to transfer buses?
We try to deliver everyone to their final destination as quickly and safely as possible. In some cases, this may result in transferring some to another bus that will be able to take a larger group of people to the same destination.
What extra steps are taken by SWT?
All hands are on deck. We deploy as many resources as possible, including drivers and staff, and we dispatch the maximum number of buses on the road as possible.
All staff is used in some way, including shoveling snow, shuttling riders, answering calls, and sending out alerts.
Why did SWT call a Snow Emergency?
Hazardous road conditions may prevent our drivers from being able to get to work. When this happens, we may not have enough drivers to cover all regular routes.
If you don't already have the SWT phone app, download it today to receive push notifications when/if we need to observe a snow emergency.